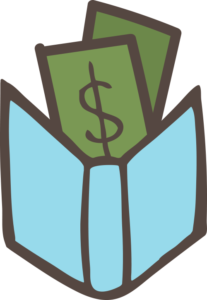 Introducing Our New Customer Loyalty Program
How it works:
Pick up your Book Bucks card at the designated area when you enter the store.  Bring it with you to the register when you are ready to check out.
Your total sale amount will be entered into one of 6 boxes on the index card.
Fill up all 6 boxes and receive 10% of the total back in Book Bucks.
Use your earned Book Bucks to purchase anything in the store.
There is no limit on how much you can earn, but you must use your current Book Bucks before you can start a new card.
You do not need to have a store account to participate in the Book Bucks Loyalty Program.
* Book Bucks are not redeemable for cash. Only one card can be redeemed per day.
NEW COVID-19 PROCEDURE RESTRICTIONS!
All credits will be held for 48 hours before being processed. 

If you do not have credit at time of drop off, we will give you enough for your purchase on the first drop off day.

No more than 1 box or 2 bags of books may be dropped off per family per day.

No books dropped off for credit will be returned. They will be donated to libraries or charities.  We will also not be returning containers or bags that books are dropped off in.

If your book drop-off exceeds our limit listed above, an appointment will be necessary. Please call during store hours to schedule. Limited number of appointments available per week. These will also be held for 48 hours before processing.  Please only bring books that we can sell, you will be given a list of restrictions when you call for an appointment.
How it works:
Store credit will work for both of our locations.
We offer store credit for all used books. We never purchase books for cash.
Store credit is not redeemable for cash
Paperbacks are worth 25% of the publisher price
Hardcovers are worth $1-4 (any book we sell for $1 or less will not receive credit)
Books we cannot use are donated or you may take them back. (You MUST take them with you that day or they become Starr Books property)
Your books will be processed in the order they are received.
You must use your account to purchase books at least once every 2 years or account will be closed. 
We Do Not Accept:
Books that have an odor
Water Damaged
Torn, yellowed, ripped
Missing covers or dust jackets
Textbooks
Encyclopedias
Out dated reference material
Diet/Medical books older than 5 years
How to use Store Credit:
Gets you 50% off used book prices
Gets you 20% off new book prices
Example:  If you purchase a $4.00 used book-you will use $2.00 of your store credit and you will pay  out of pocket the remaining $2.00 plus tax.
Below is a list of our Most Requested Books. These books are worth more credits because of their popularity.
Lilac Girls by Martha Hall Kelly
Game of Thrones Series by George R.R. Martin
Elephant and Piggie Books by Mo Willems
Captain Underpants and Dog Man Series by Dav Pilkney
1984 by George Orwell
Fahrenheit 451 by Ray Bradbury
Small Great Things by Jodi Picoult
Outsiders by S.E. Hinton
To Kill a Mockingbird by Harper Lee
13 Reasons Why by Jay Asher
Books by Dr. Wayne Dyer
16th Seduction by James Patterson
Beartown by Fredrik Backman
Before We Were Yours by Lisa Wingate
Poldark Series by Winston Graham
Big Nate by Lincoln Pierce
Bone Series by Jeff Smith
Books by Louise Penny
Books by Helen Hardt
Buffalo Valley by Debbie Macomber
Wicca/Witchcraft/Crystals/Tarot Books
Choose Your Own Adventure Books
Goosebumps by R.L. Stine
Crowned & Dangerous Rhys Bowen
Dereliction of Duty by H.R. McMaster
Doctor Who Books
Everything I Never Told You by Celeste Ng
Everything, Everything by Nicola Yoon
Golden Prey by John Sandford
Longmire Series by Craig Johnson
Books by Francine Rivers
Wonder by R.J. Palacio
Wonderstruck by Brian Selznick
Michael Vey Series by Richard Paul Evans
Middle School Series by James Patterson
Milk & Honey by Rupi Kaur
Books by David McCullough
Books by Diane Chamberlain
It by Stephen King
Our consignment program allows Starr Books to carry a variety of self-published and small press titles from local authors. We love finding hidden gems which would be of interest to our customers!
E-Newsletter Subscription
A room without books is like a body without a soul.
– Cicero –